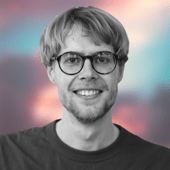 Manne Westermark
3D Artist – Art & Creative
Growing up, games have always been a hobby of mine. I started to study game art in 2017 and later worked at IO Interactive on Hitman 3 as an environment artist.
I really enjoy working with composition, materials and nature, but also to figure out what and how to do things. What is this thing? How do I create it in a smart way and make it look nice? I think being a 3D artist here at To The Sky has the perfect balance of being artistic and problem solving at the same time!

Growing up outside Östersund I have naturally found it quite nice being outside skiing or walking around in a forest or on a mountain. In my younger years I played some table tennis and spent a lot of time learning juggling, acrobatics and drawing. Right now the new thing is Disc Golf but i think table tennis might make a comeback soon!

To finish this off. The best game right now… is Rocket League.