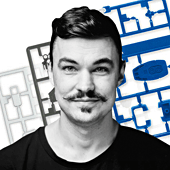 Erik R Fagerholt
UX Director / Creative – Design
Somebody once said "no game studio needs an idea-guy" and that is probably true. But I still like to think of myself as just that - an idea-guy. But ideas are not worth much, it is being able to make those ideas manifest that counts.
Most of my career I have been working with digital/creative projects of various kinds, with a focus on games and entertainment products. I have a few AAA productions under my belt and more phone games and apps than I can remember.
I have a passion for great games and great user experiences in general and love it when that all comes together. When art, gameplay, the narrative/setting all click, games can create experiences that are unlike anything you find in other media.
That's what I want to create at To The Sky!
Outside of work you'll find me trying to stay far away from the screens, spending time with my wife and kids, reading a book, painting miniatures or building model airplanes. Wow, I sound suuuper boring, but I promise you I'm really not! 😊