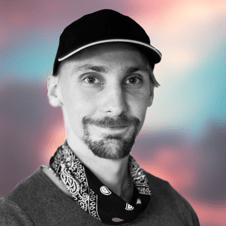 André Ahlinder
Art Director – Art & Creative
Ever since I was a kid I've been interested in art stuff! Playing games, listening to music and watching movies I quickly started yearning to create my own works of art. Now... Most of those projects back in the day didn't really "make the cut" so to speak.
But the fire never stopped burning and now some 20 years later I'm still creating on a daily basis. The only difference now from then is that some of the projects are actually making the cut and in return I'm able to buy food! ;D
My main area of expertise is as a 3D artist. But I enjoy being involved and learning about all the different aspects of game development in general.
Originally I started out as a Compositing and 3D artist within the VFX industry doing work for commercials, TV and movies. Soon enough I started to venture into more interactive content which led me down the road of game development.
I like movement, quite a bit. Digital movements making things fly around on the screen is great, but so is analog movement, like moving myself!
Since I spend a lot of time in front of the computer, I guess I try to give it my all whenever I'm actually out and about. For example I'm still pushing to become a "real skateboarder" by learning that elusive yet fair kickflip!

On top of this I've slowly been building up a record library and a sort of home studio for music sampling and creating sick beats in my spare time.

Recently I've also been getting into cars a bit and to modify and maintain the old carriage is a nice change of pace to some of my other hobbies. Now I just need to find a garage and get some blue overalls!