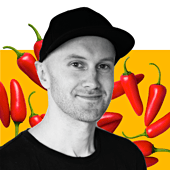 Gustav Bodare
Lead Engineer – Engineering
I've spent most of my career career as a Software Engineer at AAA games studios. Still, I usually introduce myself as a game developer rather than a programmer, since typing code is not the full story. I do quite a bit of it though. I love creating experiences and coding just happens to be my most powerful tool.
As a Software Engineer at To The Sky, I obviously do a lot of engineery things. But maybe a better way to put it is that I try my best to just make stuff work. We are a small outfit and that means many hats(?). Being involved in a wide variety of areas and seeing it all come together - that's what gets me on that rentable scooter in the morning.
Outside of work... well, I do quite a bit of gaming. I try to support a lifestyle where I spend most of my time slouching in front of a computer by using the rest of my time for various physical activities, including but not limited to, longboarding, acrobatics, and plain old lifting.
I also enjoy learning new things - especially stuff I don't have any practical use for. Let me know if you want to know how to spin a book on your finger or learn how to kick yourself in the head.